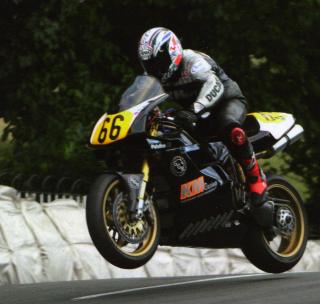 We don't supply cheap bearings that don't last. What we do supply are good quality bearings at a low price. Our picture shows Jason Kerridge riding his Ducati in the 2005 Isle of Man Senior Grand Prix. He wrote to us saying:-
"Your bearings are performing wonderfully ! I am very grateful for your prompt and reliable service and your efforts in overcoming difficult applications"
Don't run the risk of bearing failure - we supply premium brand bearings at competitive prices.
If you need further assistance
Phone 01392 680 880
Fax 01392 437 131
Email info@thebearingshop.co.uk
Picture by kind permission of
The Picture Box
Tel: 01624 611884
email: themanxpicturebox@talk21.com