If your manual or handbook clearly identifies the bearings you require go straight to our on line on line bearing shop.
You can cross reference your motorcycle against our specified bearing list, using the menu on the left and selecting either off road or make of bike.
We list bike wheel bearings by manufacturer. Within the listing for the manufacturer, models are listed by ascending engine size.
There are model and year details with bearings shown for front wheels and rear wheels.
Sprocket carrier bearings (where appropriate) are listed by manufacturer further down the navigation buttons.
We suggest you make a note of the bearing designations before going to our on line bearing shop to buy your bearings.
Most ball, roller and plain bearings carry a designation which is most often found on the side face on the inner and or outer rings of the bearing.
Where the bearing is sealed the designation can usually be found on the seal face.
The designation identifies the bearing type, size and other features and is usually all that is needed when ordering.
If it is not possible to read the designation then identification can be made by one of the following:-
1. The maintenance manual or instruction details will sometimes state which bearings are used
2. We are happy to assist with identification - please send the bearing with as much detail as possible about where the bearing is being used
3. By measuring the bearing - you will require 3 measurements, firstly the ID or bore size, secondly the OD and finally the width or thickness.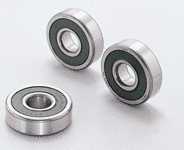 Our bearings are listed firstly by type, namely single row deep groove ball followed by miniature etc.
The search facility can be used by typing in just the numeric digits of the bearing. This will take you to the begining of the series of the bearing and you should then navigate down the page or pages to find your bearing. Bearings are listed by ascending inner diameter with dimensions being shown by inner (ID), outer diameter (OD) and width (W).
Alternatively you can select the type of bearing required. Virtually all motorcyle wheel bearings are single row deep groove ball bearings, which is the first type of bearing listed.
Select single row deep groove ball bearings and you will be presented with a selection of bearing series commencing with the 6000 series.
Select the series appropriate to your requirements e.g. 6000 or 6200 etc.
Within the series bearings are listed by ascending inner diameter with dimensions being shown by inner (ID), outer diameter (OD) and width (W). Identify the bearing and buy your particular bearings.